Builder Hall
Home of the Master Builder and the main objective in battle.
Destroying a Builder Hall awards a Star in attacks. Destroying 50% of buildings in a stage gains you a second Star, while 100% destruction awards three Stars for the stage.

Upgrade the Builder Hall to unlock advanced buildings and troops!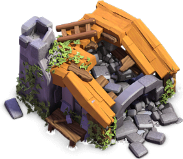 Level 1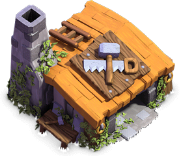 Level 2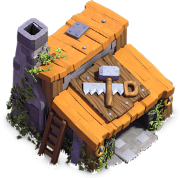 Level 3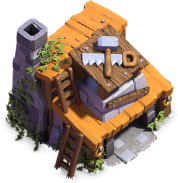 Level 4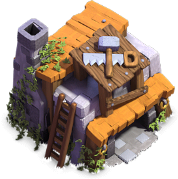 Level 5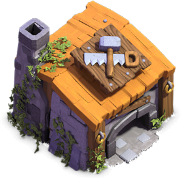 Level 6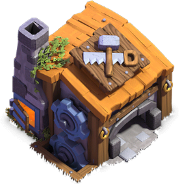 Level 7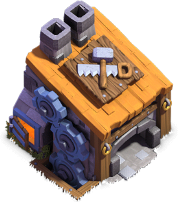 Level 8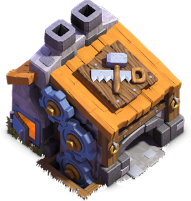 Level 9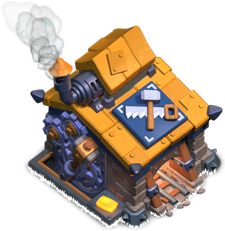 Level 10
| Level | Storage Capacity: | Storage Capacity: | | | | |
| --- | --- | --- | --- | --- | --- | --- |
| 1 | 50,000 | 50,000 | 650 | 0 | None | 0 |
| 2 | 75,000 | 75,000 | 800 | 3,500 | 5 s | 2 |
| 3 | 100,000 | 100,000 | 975 | 30,000 | 1 h | 60 |
| 4 | 150,000 | 150,000 | 1,150 | 200,000 | 1 d | 293 |
| 5 | 900,000 | 900,000 | 1,350 | 400,000 | 2 d | 415 |
| 6 | 900,000 | 900,000 | 1,600 | 1,200,000 | 3 d | 509 |
| 7 | 1,100,000 | 1,100,000 | 1,850 | 1,800,000 | 4 d | 587 |
| 8 | 1,300,000 | 1,300,000 | 2,150 | 2,800,000 | 5 d | 657 |
| 9 | 1,500,000 | 1,500,000 | 2,450 | 3,800,000 | 6 d | 720 |
| 10 | 1,500,000 | 1,500,000 | 2,750 | 4,800,000 | 7 d | 777 |
| Level | Storage Capacity: | Storage Capacity: | | | | |
| --- | --- | --- | --- | --- | --- | --- |
| Level | Storage Capacity: | Storage Capacity: | | | | |
| --- | --- | --- | --- | --- | --- | --- |
| 1 | 50,000 | 50,000 | 650 | 0 | None | 0 |
| 2 | 75,000 | 75,000 | 800 | 3,500 | 5 s | 2 |
| 3 | 100,000 | 100,000 | 975 | 30,000 | 1 h | 60 |
| 4 | 150,000 | 150,000 | 1,150 | 200,000 | 1 d | 293 |
| 5 | 900,000 | 900,000 | 1,350 | 400,000 | 2 d | 415 |
| 6 | 900,000 | 900,000 | 1,600 | 1,200,000 | 3 d | 509 |
| 7 | 1,100,000 | 1,100,000 | 1,850 | 1,800,000 | 4 d | 587 |
| 8 | 1,300,000 | 1,300,000 | 2,150 | 2,800,000 | 5 d | 657 |
| 9 | 1,500,000 | 1,500,000 | 2,450 | 3,800,000 | 6 d | 720 |
| 10 | 1,500,000 | 1,500,000 | 2,750 | 4,800,000 | 7 d | 777 |

4x4