Town Hall
This is the heart of your village. Upgrading your Town Hall unlocks new defenses, buildings, traps and much more.Destroying an opponent's Town Hall wins you the battle and you get one Star. Destroying 50% of enemy buildings gains you a second Star, while 100% annihilation awards full three Stars.
Beware, your enemies will be trying to destroy your Town Hall too!
For maximum protection, keep your Town Hall in the middle of your village and protect it with walls, traps and defensive buildings. Your enemies are sneaky and can attack from any side!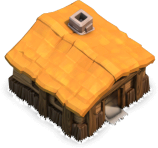 Level 1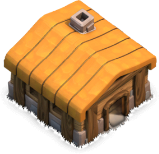 Level 2
Level 3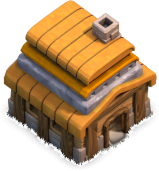 Level 4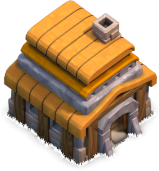 Level 5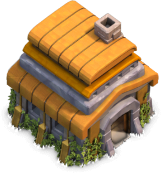 Level 6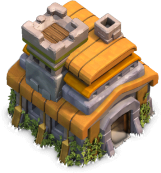 Level 7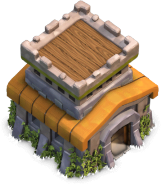 Level 8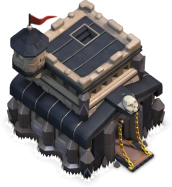 Level 9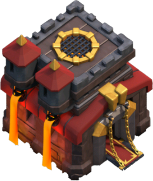 Level 10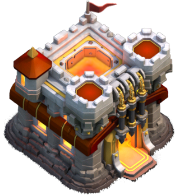 Level 11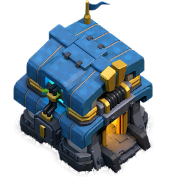 Level 12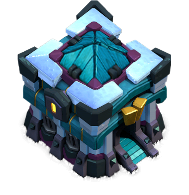 Level 13
Level 14
| Level | Storage Capacity: | Storage Capacity: | Storage Capacity: | | Defenses | | | | TH |
| --- | --- | --- | --- | --- | --- | --- | --- | --- | --- |
| 1 | 1,000 | 1,000 | 0 | 450 | None | 0 | 10 s | 3 | 1 |
| 2 | 2,500 | 2,500 | 0 | 1,600 | None | 1,000 | 10 s | 3 | 2 |
| 3 | 10,000 | 10,000 | 0 | 1,850 | None | 4,000 | 1 h | 60 | 3 |
| 4 | 50,000 | 50,000 | 0 | 2,100 | None | 25,000 | 3 h | 103 | 4 |
| 5 | 100,000 | 100,000 | 0 | 2,400 | None | 150,000 | 6 h | 146 | 5 |
| 6 | 300,000 | 300,000 | 0 | 2,800 | None | 750,000 | 12 h | 207 | 6 |
| 7 | 500,000 | 500,000 | 2,500 | 3,300 | None | 1,000,000 | 18 h | 254 | 7 |
| 8 | 750,000 | 750,000 | 5,000 | 3,900 | None | 2,000,000 | 1 d | 293 | 8 |
| 9 | 1,000,000 | 1,000,000 | 10,000 | 4,600 | None | 3,000,000 | 2 d | 415 | 9 |
| 10 | 1,500,000 | 1,500,000 | 20,000 | 5,500 | None | 4,000,000 | 3 d | 509 | 10 |
| 11 | 2,000,000 | 2,000,000 | 20,000 | 6,800 | None | 5,500,000 | 4 d | 587 | 11 |
| 12 | 2,000,000 | 2,000,000 | 20,000 | 7,500 | Giga Tesla | 8,500,000 | 6 d | 720 | 12 |
| 13 | 2,000,000 | 2,000,000 | 20,000 | 8,200 | Giga Inferno | 11,500,000 | 10 d | 929 | 13 |
| 14 | 2,000,000 | 2,000,000 | 20,000 | 8,900 | Giga Inferno | 16,000,000 | 14 d | 1099 | 14 |
| Level | Storage Capacity: | Storage Capacity: | Storage Capacity: | | Defenses | | | | TH |
| --- | --- | --- | --- | --- | --- | --- | --- | --- | --- |
| Level | Storage Capacity: | Storage Capacity: | Storage Capacity: | | Defenses | | | | TH |
| --- | --- | --- | --- | --- | --- | --- | --- | --- | --- |
| 1 | 1,000 | 1,000 | 0 | 450 | None | 0 | 10 s | 3 | 1 |
| 2 | 2,500 | 2,500 | 0 | 1,600 | None | 1,000 | 10 s | 3 | 2 |
| 3 | 10,000 | 10,000 | 0 | 1,850 | None | 4,000 | 1 h | 60 | 3 |
| 4 | 50,000 | 50,000 | 0 | 2,100 | None | 25,000 | 3 h | 103 | 4 |
| 5 | 100,000 | 100,000 | 0 | 2,400 | None | 150,000 | 6 h | 146 | 5 |
| 6 | 300,000 | 300,000 | 0 | 2,800 | None | 750,000 | 12 h | 207 | 6 |
| 7 | 500,000 | 500,000 | 2,500 | 3,300 | None | 1,000,000 | 18 h | 254 | 7 |
| 8 | 750,000 | 750,000 | 5,000 | 3,900 | None | 2,000,000 | 1 d | 293 | 8 |
| 9 | 1,000,000 | 1,000,000 | 10,000 | 4,600 | None | 3,000,000 | 2 d | 415 | 9 |
| 10 | 1,500,000 | 1,500,000 | 20,000 | 5,500 | None | 4,000,000 | 3 d | 509 | 10 |
| 11 | 2,000,000 | 2,000,000 | 20,000 | 6,800 | None | 5,500,000 | 4 d | 587 | 11 |
| 12 | 2,000,000 | 2,000,000 | 20,000 | 7,500 | Giga Tesla | 8,500,000 | 6 d | 720 | 12 |
| 13 | 2,000,000 | 2,000,000 | 20,000 | 8,200 | Giga Inferno | 11,500,000 | 10 d | 929 | 13 |
| 14 | 2,000,000 | 2,000,000 | 20,000 | 8,900 | Giga Inferno | 16,000,000 | 14 d | 1099 | 14 |

4x4